"Vitality"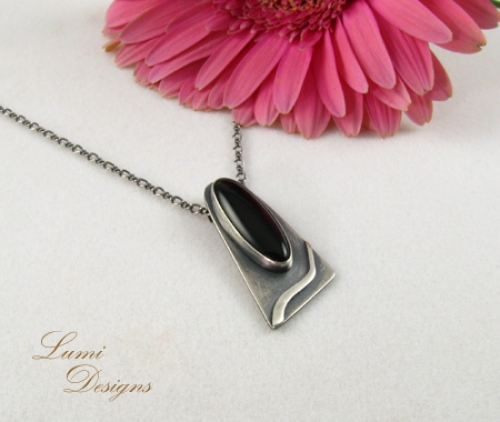 Necklace "Vitality" is made with Black Onyx and Sterling Silver (925)
There are times in life when you feel tired and powerless... In such moments it's not easy to pick yourself up to get back on feet. But each and every one of us have our own places to regain strength – riverside, forest, seashore. Or a specific ritual that returns both, physical strength and willpower. And sometimes we get help from crystals. One of such crystals that restores our power is black onyx. Holding it close, one can feel difficulties fade away and life having more colours. More on black onyx here:

Black Onyx
Onyx is a power-giving crystal and therefore helps to cope with difficult situations and stress. As it facilitates concentrating on details and accepting everything new, it is particularly useful to students, business executives, teachers, accountants, lawyers and everybody else who need to be disciplined and focused. After long illness or working on a long-lasting project, Onyx provides relief from exhaustion. Like all black crystals, Onyx has protective energies. It neutralises negative energies, pacifies nervosity and anxiety, and has cooling effect on those who tend to "overheat".
Onyx is useful for those who have problems with feet, teeth, bones and blood.

For my earlier work, please visit www.myhandmadejewellery.com