"Golden Rain"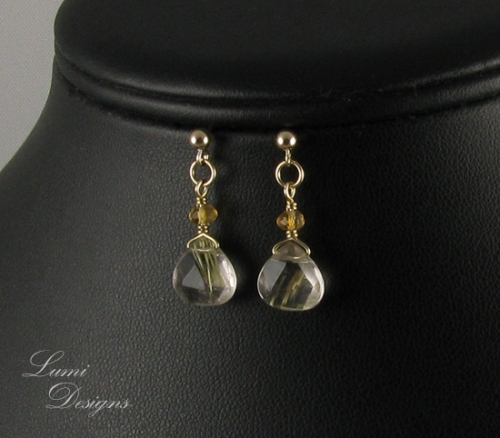 Earrings "Golden Rain" with rutilated quartz, citrine and gold-filled (14K/20)
Rutilated Quartz
Rutilated Quartz aka angel's hair is a perfect lightbearer that enlightens the soul and facilitates spiritual growth. It brings the light to the cellular lever and preserves it there. It's a powerful group of minerals sizzling with energy! It strengthens intuition and helps to realize whether others' intentions are good or evil. In addition, rutilated quartz helps to remain focused and keeps the head clear so that we can carry out our ideas and plans. Rutilated quartz can be found in different colours, starting with red and ending with golden "needles". Rutilated quartz can be found both in clear quartz and smoky quartz. Smoky quartz has gentler influence than clear quartz because it has a grounding effect. Red and brown "needles" help bring higher vibrations to the body and remove roadblocks from health and prosperity. Orange and golden "needles" activate creative energies and the ability to have divine inspiration. Silver "needles" increase intuitive abilities. Rutilated quartz helps to remove etherial blockages before they come down to a physical level.
Rutilated quartz facilitates hair growth and helps to avoid baldness. It is also useful for treating wounds, stimulating cell growth and rebirth. Rutilated quartz also heals respiratory tract, bronchitis and thyroid illnesses.
Citrine
Sun, warmth, prosperity – these are the keywords characterizing citrine. In addition, citrine is a powerful cleanser and never needs to be cleaned. It brings clarity of thought and increases creativity. It is helpful for people who use hands in their work, like jewellers, engravers, illusionists, etc. This crystal helps to achieve earthly goals: good education, well-paid job, successful business, as it brings in power and concentration. Since citrine carries solar energy, it helps overcome depression, sadness and nervousness.
Citrine also strengthens immune system, digestion and blood circulation, and helps overcome fatigue. It rids the body of toxins, lessens body weight, and aids in getting rid of cellulite.
What does it mean - gold-filled? Look HERE!
For my earlier work, please visit www.myhandmadejewellery.com