"Indriel"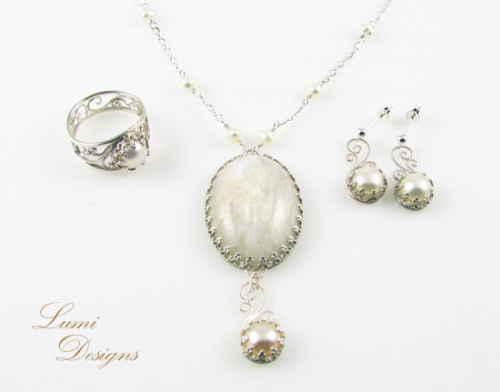 Jewellery set "Indriel" - sterling silver (925), moonstone and freshwater pearls
Moonstone
In India, Moonstone has always been considered a stone of lovers and that is why it has been a desired gift for those getting married. Moonstone is supposed to bring harmony into the marriage. In Europe, it was believed that Moonstone helps reconciliation between lovers who have gone apart.
The keywords of Moonstone are enchantment, intuition, insight and self-discovery. Moonstone carries feminine energy, and in men, it helps to activate the right half of the brain, discover their feminine side and thereby become wholesome.
For centuries, Moonstone has been used to contact the energies of the moon. The rhythms of the Moon play an important role for all those living on Earth and Moonstone helps us understand the cycles of life and their importance. Every cycle that we live through increases our wisdom, beliefs and knowledge. Moonstone also develops our intuition and makes our psychic abilities grow. In addition, Moonstone has a calming effect, it relieves anger and helps to see the reasons behind our problems.
Moonstone heals insomnia and improves digestion, regulates the menstrual cycle and facilitates becoming pregnant. It is a great stone for the time of giving birth and for the period of breastfeeding.

Pearls
Jewelry made of pearls has always been appreciated. Most of the bridal jewelry is made of pearls as they are symbols of fidelity, innocence and purity. Because a pearl grows inside a living organism and is born through considerable suffering, it is thought that it can understand sadness and pain. Pearls also symbolize the maturing of a soul, wisdom and enlightening. A round pearl facilitates concentration and helps to achieve unity with one's feelings. Pearls symbolize feminity and honesty, they are helpful in feeling dignified.
White pearls symbolize innocence and faith